Summer
Summer – the time to embrace all things bright and beautiful. Not only do I like summer for the warm, sunshine days but also for the vivid shades that this season brings. You are scared of vivid colours? Don't be! With a few metallic touches and the right accessories, you can easily combine them to create a magnificent effect. And here I choose violet succulent, not just only there is violet colour in such a beautiful and unique plant like succulent but also the green – lively colour, an added value for your wedding theme.
Violet
In the meaning of color, violet represents the future, the imagination and dreams, while spiritually calming the emotions. It contains the energy and strength of red with the spirituality and integrity of blue. This is the union of body and soul creating a balance between our physical and our spiritual energies. They inspire and enhance psychic ability and spiritual enlightenment, while, at the same time, keeping us grounded.
Succulent – understated ~  enduring ~ timeless love
Succulents are a range of house plants that are generally available all year round. Succulents are currently popular at weddings and can be used at a variety of different styles of wedding. With over 50 different species these versatile plants look delicate with their waxy looking leaves, but are tough enough to survive and even root without any water.
Venue
The Ranch at Little Hills – San Ramon, CA
An oak canopied path leads to a beautiful, grass ceremony area, where large oak trees and a beautiful Pergola Deck set the stage. The nearby reception patio, surrounded by enormous live oak trees, romantic twinkle lights, and covered by the stars, creates the perfect atmosphere as night falls. A second ceremony site is truly tucked into the woods, completely surrounded and covered by a canopy of perfectly placed trees among the rolling hills. This site will take your breath away, wow your guests, and make for extraordinary pictures. In fact, no matter which ceremony site you choose, photo opportunities can be found at each turn on the 25 acre grounds.
Invitation
A purple laser cut invitation with a classic look to impress your guests is lovely. Too simple and you want to make it more impressed ? Then try the ticket invitation, I believe it is not a bad idea at all.
Decoration
Mason jar string lighting hung from tree branches. Great for outdoor venues or for lighting up pathways so guests to take a leisurely stroll during your reception
When the sun goes down, light up some fire pits to create a rustic backyard vibe
Using succulents is a beautiful way to bring natural elements into the look and feel of your wedding day and making it as favour gift for your guests is beyond their expectation.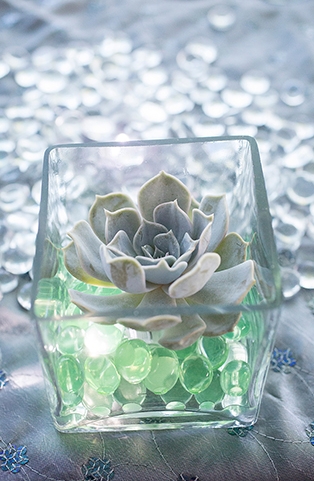 Or else you can have your guests wear your wedding theme colour sunglasses with the name of yours. Because it is summer, the time of sunglasses and sunshine!
Wedding attire
Bride
Lace wedding dress for a gentle and beautiful look with the succulent on your hairstyle wedding as an emphasis of the wedding theme make your look more elegant and unique. If you want to have more summer theme in the wedding, then wearing a stylist sunglasses such as aviator, retro, designer with violet colour and a flower band instead of a wedding crown as usual.
Mix succulent plants with violet flowers in a bouquet such as freesia, alium, sweet pea, veronica, africa violet to create a stunning all-succulent bouquet, or an unusual, eye-catching boutonnière; the possibilities are endless!
Groom
A grey or light black colour is a good mix-matching option with the colour wedding theme. Therefore, choose a vest or bow or tie with these colours and of course with a succulent buttonhole on your suit for a more impressed outlook.
Food & Beverage
Finger food such as fresh sea food: shrimp in a clear one time used disposal spoon or tuna in a cone ice cream with sauce or even your traditional dishes from your own country like fresh spring roll from Viet Nam or sushi from Japan.
Violet or purple macarons and cupcakes for the perfect sweeties that will definitely suit your wedding theme and your guests' appetite.
If succulents feature in your wedding then why not add them to your cake decoration to complete the look.
Entertainment
Have your guests blow bubbles as you leave the ceremony. Make it the once in a lifetime event with your all beloved one.
Instagram ? Yes, great. Whenever you want to have back memory or anniversary, just use the hashtag that your lovely friends have helped you to share the moment at your wedding.
Transportation
Choose a convertible or a scooter for a fun, adventure, memorable and cool summer wedding day.
Text by Anh To